Every business has its unique way of doing things. They don't want to be shoehorned into rigid data extraction or automation processes because a vendor has decided that's the single path forward. Here at Alkymi, we have a different philosophy than most solution providers in our space. We continually improve our product to not only give you the best intelligent data processing and workflow automation technology but also the most flexible solution that adjusts to your preferred way of working—not the other way around. Therefore, it's no surprise that many of our recently released features focus on "going with your flow."
Salesforce + Alkymi
Many businesses love to use Salesforce for their critical business processes, including customer onboarding. Now, they can enjoy their experience even more with the intelligent document extraction and workflow automation benefits of Alkymi.
Through our new seamless integration, you can automatically send documents from Salesforce directly to Data Inbox for processing. Users can review the extracted information in Data Inbox or have the clean data pushed back directly to Salesforce to trigger the subsequent actions. For example, if an account statement comes in above a certain threshold, you can have it automatically sent to a supervisor for approval.
Additionally, Salesforce Orchestrator users can confidently create multi-team, multi-step workflows using instantly available document data provided seamlessly by Alkymi. The extracted results can be used to create records and assign tasks based on the clean data.
See more & click less
With the major upgrade to our document viewer, you get a more streamlined and scalable way to work with document data, reconcile exceptions, and capture information. You also get more straightforward navigation between pages, attachments, and data extracts, as the improved Document Viewer can handle much more complexity.
You can now work with longer documents, virtually extract an endless amount of data points, and quickly review it in our improved UI. Plus, we've eliminated the need to hit that "save" button. Instead, any data you enter is now automatically saved and validated, thanks to our new auto-save feature—requiring fewer clicks and enabling greater productivity along with peace of mind.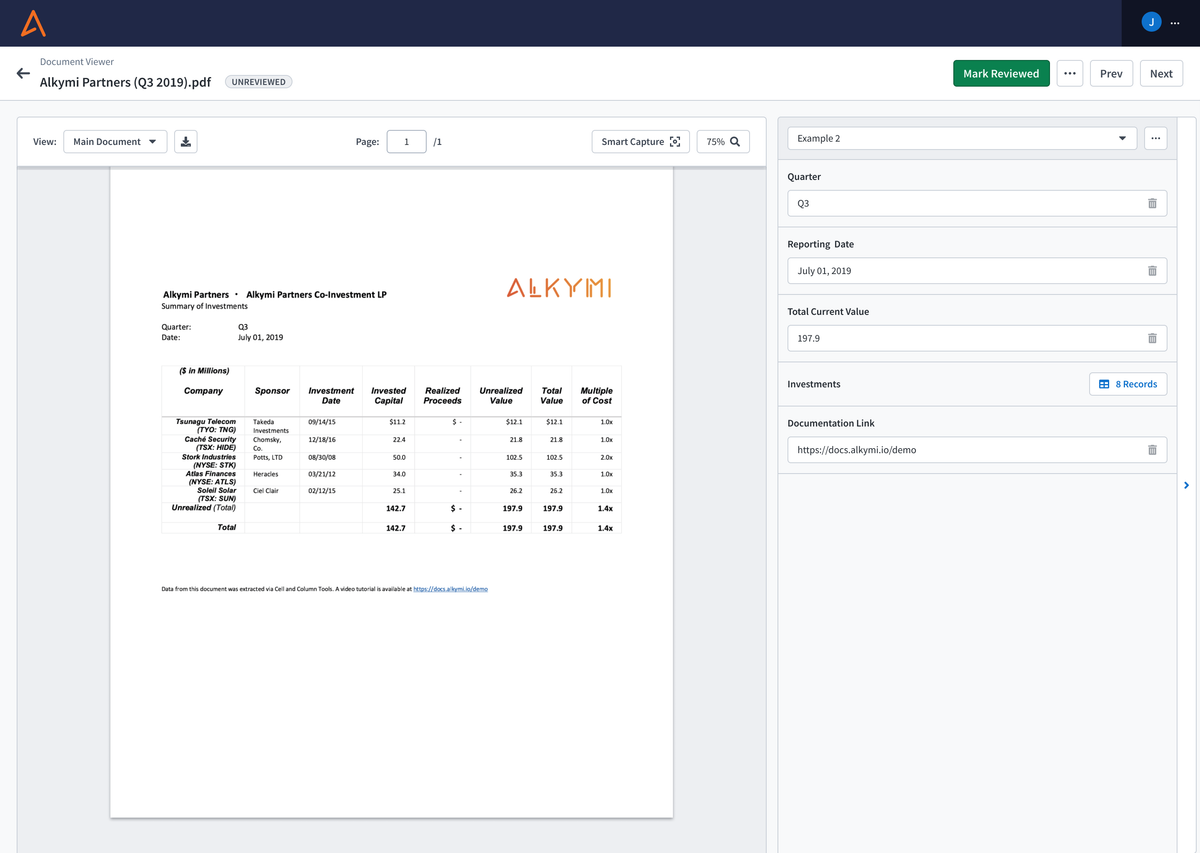 "Hook" those tricky data points with the anchor tool
Critical information is often positioned outside of tables or paragraphs. Although such a design might be visually pleasing in a PDF, without identifying markers near that hard-to-extract, "floating" data, those account numbers or customer names can make extraction extremely difficult. However, with our new anchor tool—along with some guidance from the business user—pulling the values based on their relative position on the document is now an option for all Alkymi Patterns Studio users.
Alkymi: automation for your work style
If you're ready to offload the tedious collection, extraction, normalization, and integration of data to a flexible solution that adapts to your needs, you should give Alkymi a try. Get started for free today with our trial.