Change for Kids (CFK) is a non-profit organization dedicated to leveling the playing field for kids so they can realize their potential. Founded 25 years ago, the organization serves over 5,000 children in New York City. It develops partnerships with schools and like-minded, community-based organizations to provide students and families with intentional experiences, access to resources, critical support, and inspiring role models.‍
‍Kevin Ervin, the Executive Director, describes CFK's goals and mission.‍
As mentorship is a critical aspect of their program, CFK needed a better way to broaden the scope and address the reality of consistent, but zero-contact, mentoring in a post-COVID world. As part of Alkymi's ongoing partnership with CFK, we determined that the digital mentorship platform offered a unique opportunity for the Alkymi team to support a gap in CFK's capabilities.
On Friday, July 10, the Alkymi team started the initiative with CFK to plan the development of an app that would be easy for mentees and mentors to use and effective in providing continuous support. Drawing on the breadth of experience represented at the company, the Alkymi team separated into three teams to address functional areas of the product: data and insights, UX & workflow, and systems, integrations, and architecture. The three teams considered different aspects of the product and gathered, brainstormed, and broke down product goals set out by CFK, such as:
User journeys: Enable mentors and mentees to set and track weekly goals and have recurring online interactions via text, voice, and video.
Ongoing collaboration: Provide a shared wiki-like page that both mentors and mentees can edit and update.
Mentor/Mentee relationship management: Allow mentees to see a list of potential mentors as well as request one, as well as make it easy for mentors to manage their availability for mentoring sessions.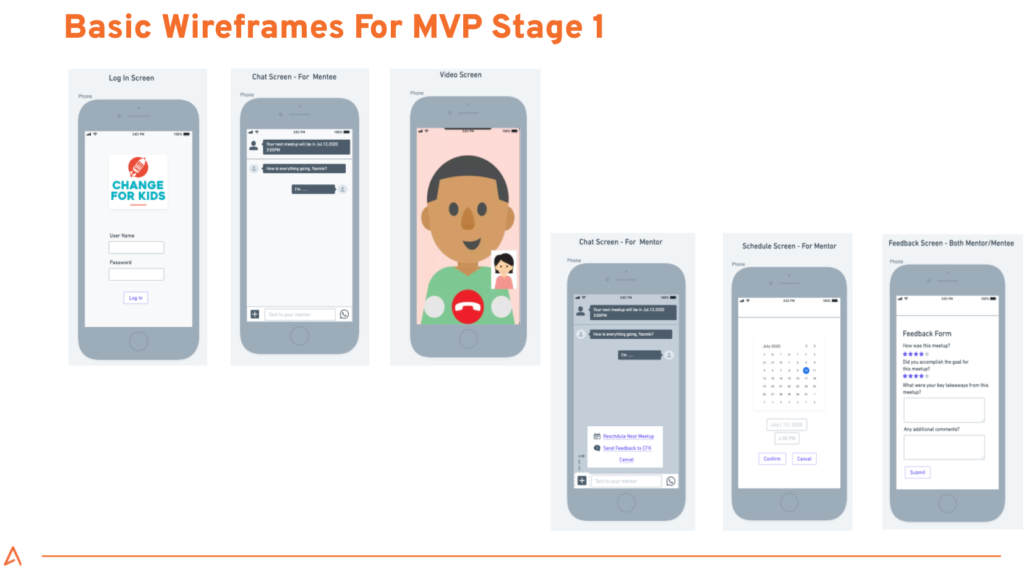 The three Alkymi teams then walked through the data and metrics required to ensure the virtual mentoring program would be well-functioning and delivering value. The teams considered what metrics should provide the foundation for the digital mentorship platform including mentor/mentee engagement hours, active usage and session frequency (daily, weekly, etc.), and user retention measured via login, survey completions, and other touchpoints that indicate regular usage.
Finally, we specified the privacy and security controls required and studied other technical components that could be enabled in the future, such as calendaring and whiteboarding. The day concluded with Alkymi delivering the product specification to CFK, providing a roadmap and detailed recommendations for how to quickly build and launch the MVP of the CFK digital mentorship platform.
CFK now plans to build on the Alkymi product specification to secure external funding for the project and accelerate the launch of the app in 2020. We're proud that our team was able to donate our time and expertise to make a small difference for CFK in its mission to combat inequity. To support Change for Kids and our project, please consider donating here.
‍Learn more about the Alkymi team, what we do, and what it's like to work with us.