We are excited to announce the launch of both Data Transformer and Assurance! We want you to be confident that your data is formatted and structured the way you need it and know that 100% of the data you create in Data Inbox can be put to work instantly in your business.

Data Transformer is our newest addition to Patterns Studio which gives you the ability to turn raw results into structured data with easy-to-build transformations. While Assurance creates a final checkpoint for you to review and approve your data.

Next-Level Restructuring with Data Transformer
Accurate doesn't mean actionable. Capturing accurate data from documents is only half the battle. Making data actionable means transforming raw results into data that is structured and formatted for your business systems.

Raw results are data points pulled directly from your document. Most of the time, these data points aren't in the correct structure for your business systems. For example, May 23, 1995 and 05/23/1995 are the same value but not all systems will accept both as a date.‍
Data Transformer, our newest addition to Patterns Studio, gives you the ability to turn raw results into structured data automatically.‍
With Data Transformer, you can create Transformations that identify data points from source documents and reshape them according to your rules so they can be used as and when needed immediately after export.

That means no extra manual steps for your team, just better data.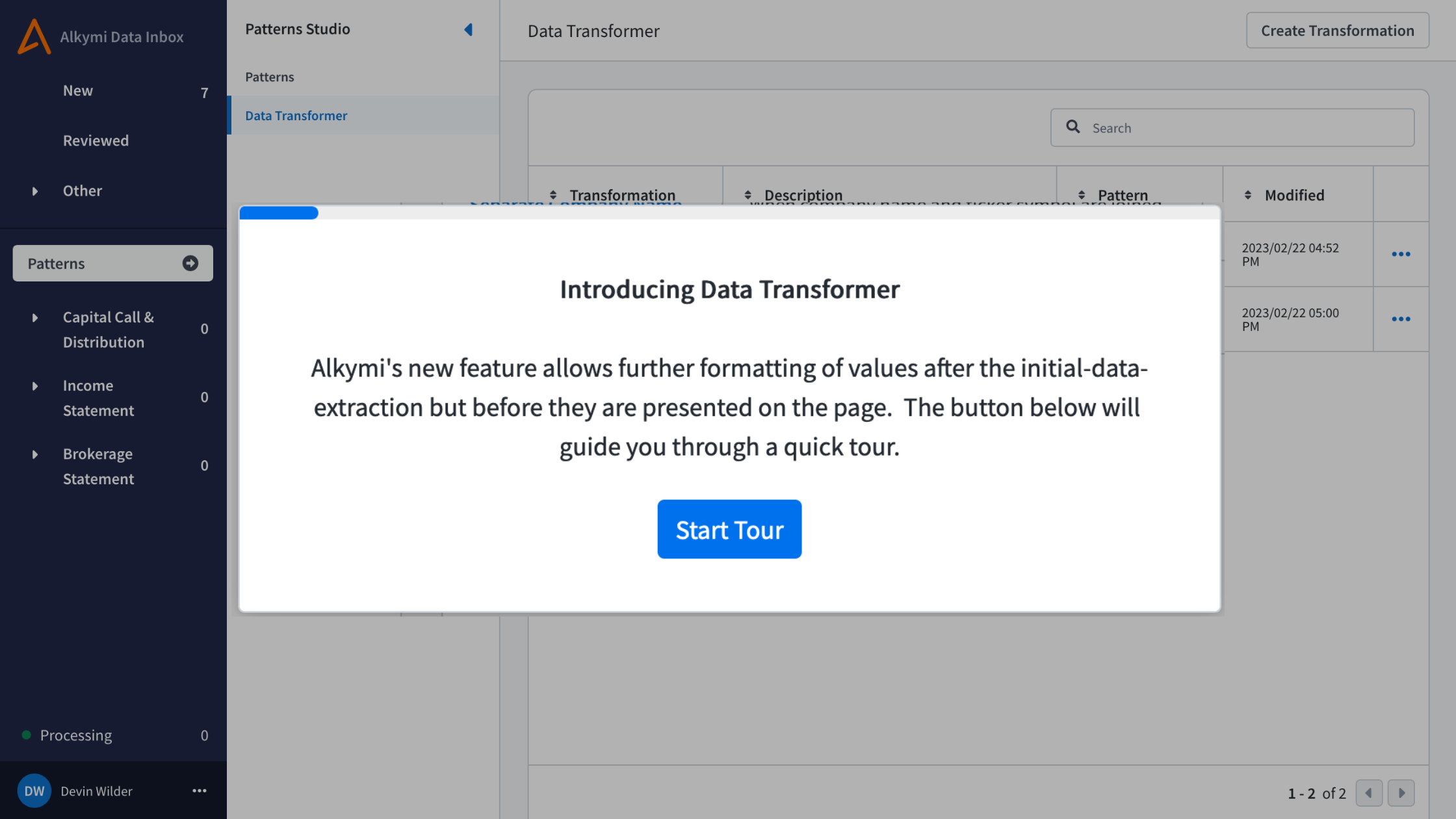 So what can you do with Transformations you ask? Here are some examples:

Data Manipulation - Names and identifiers are often critical to extract, but can be tricky because pieces are scattered throughout the document. With Data Transformer, you can easily connect disjointed pieces of data and perform tasks like ID mapping.
Data Cleanup - Everyone has their own style and formatting. Sometimes senders write information in all caps, sometimes they repeat information unnecessarily, and sometimes they follow unconventional formatting. With Data Transformer, all of this can be undone, ensuring consistency across your data payloads.
Hyper-Targeted Data Extraction - Oftentimes the piece of data you need is wrapped up inside of other information. For example, perhaps you only require the last 4 digits of a social security or phone number or you want to ignore standard prefixes that clutter your export. With Data Transformer you can zero in on that information so that you're only extracting what you need.
Peace of Mind, Guaranteed with Assurance
The best time to fix your data is before it makes its way into your business systems. Assurance establishes a checkpoint for your data, making sure it meets your validation requirements to prevent poor quality data making it downstream into your business systems.

Assurance gives you:‍
Consistency across systems - Set field types to ensure that data is in the right format.
Complete data - Requiring fields before data can be marked as complete means no gaps or holes in your database.
The ability to choose - oftentimes, there are multiple answers for a single field. We surface them all so you can select the best one.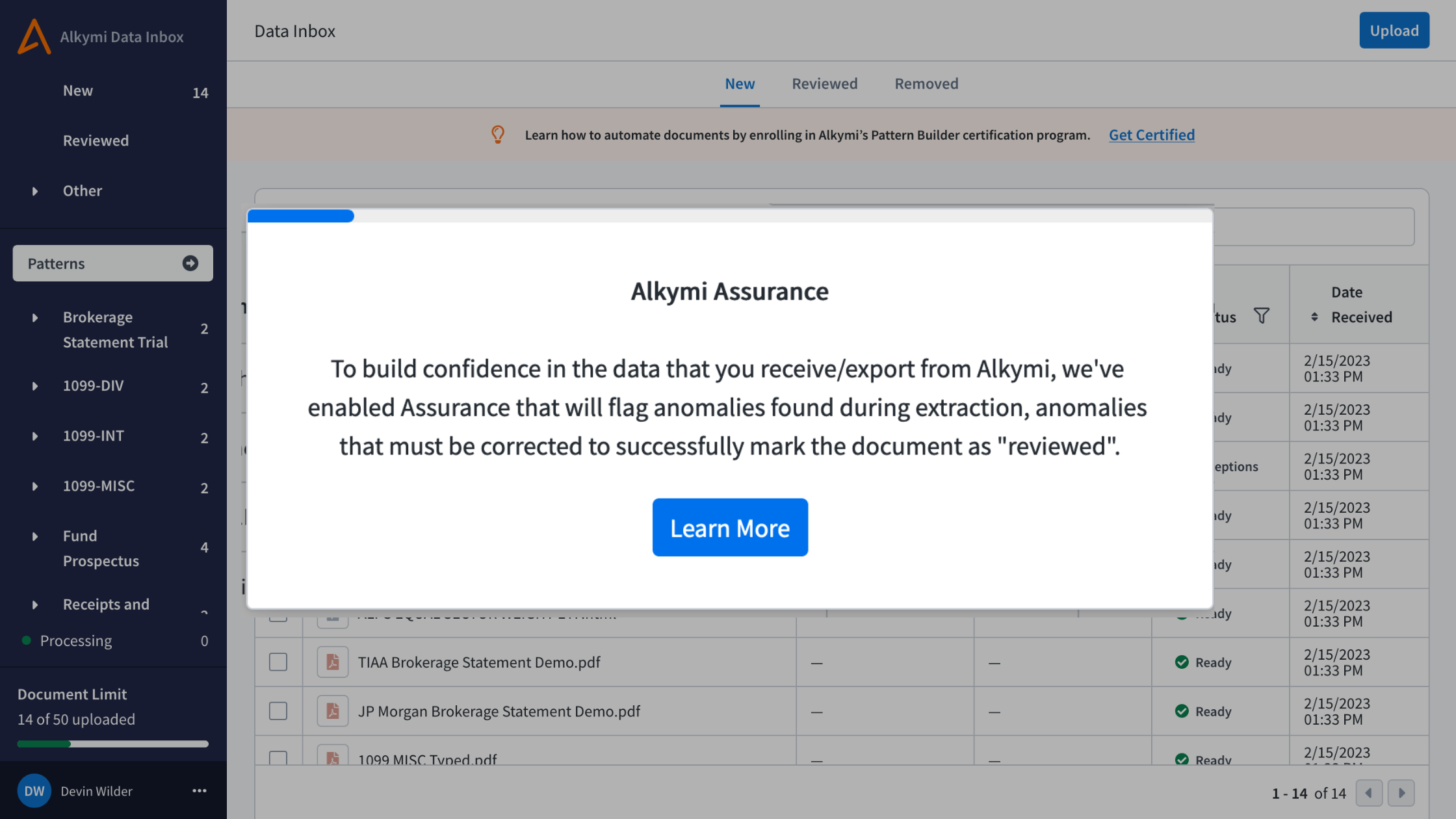 ‍Our goal as always is to empower teams to get what they need from their data without getting bogged down by complicated, hard-to-use tools.

The launch of Assurance and our new Data Transformer tool, allows you to apply context and workflow-specific cleanup actions to your data in real-time, while guaranteeing that every piece of data that is produced by Alkymi is structured and instantly usable.

Want to learn more? Drop us a line!