Who doesn't like avoiding confusion? Simplified workflows are key to clean, effective operations. Organized inboxes can help you get there. Our first update this month adds a new organizational framework to your Data Inbox to help cut through the clutter of disorganized entries and supercharge team workflows.
We've also been reflecting on how it's often the simple things that make the biggest difference. What's true for life is true for data extraction. Extracting data from tables with merged cells can be a huge headache - one that stands in the way of many automation goals. That's why we're excited to announce that we've eliminated that headache by unlocking merged cell data, making it easily accessible and immediately useful.
In keeping with the theme of simplicity, our third update of the month makes a big document small with even more ways to create targeted sections. There is increased power and increased flexibility in defining as many sections as you'd like to match your boundary criteria.
Read on for details on these exciting updates that further our commitment to making your job easier every day.
Manage team workflows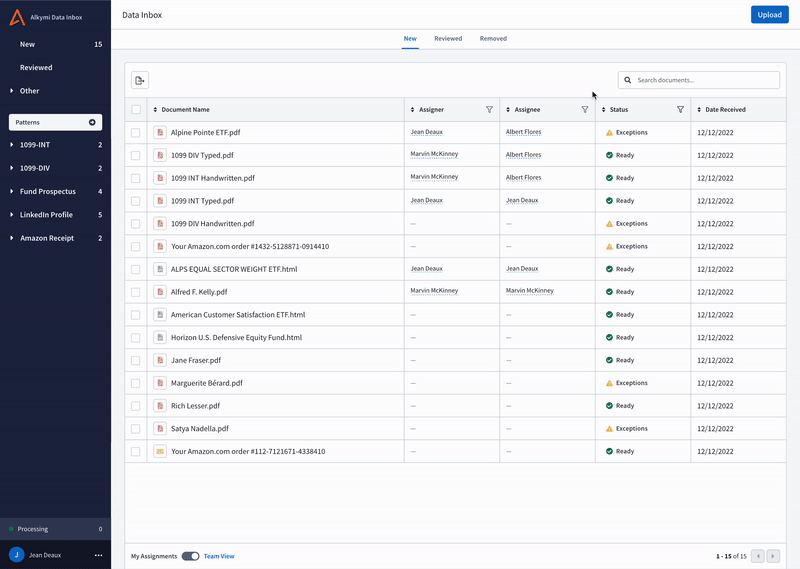 In analyzing thousands of unstructured data workflows since Alkymi's founding, we've learned that document-driven workflows are often managed by teams. Team workflows present unique challenges, though, and we've seen that their needs have been underserved by products in the market today. For example, using legacy tools like spreadsheets and email inboxes, it's not always clear who is responsible for actioning a document in an organization. Nor is there a quick way to see which documents any given user should access and view. Without appropriate, timely action on documents, miscommunication, delays, and missed opportunities can occur.
Because knowing who is doing what - and when - is a critical component of effective workflows, we've taken big steps to eliminate these points of confusion. Our new Team Workflow Management framework empowers users to easily organize documents in their Data Inbox while also streamlining their personalized views.
Now Data Inbox users can:
Assign documents
View and filter by assignment and document extraction validation status
View documents assigned directly to themselves
View additional document details in one place
The new framework for assigning documents makes the Data Inbox experience not only efficient, but also empowering. Increased collaboration and coordination between users is an added benefit that boosts visibility and productivity.
Conquer merged cells
Have you experienced merged-cell madness? Merged cells can distort table data, making them one of the biggest impediments to table data extraction. We're thrilled to provide a solution.
Users can now capture data from merged cells, putting them in scope for targeted automation. Specifically, our merged-cell solution allows you to view the new context of the merged cell associated with each row or column when viewing the table structure. This makes it possible to unlock data when extracting values using column, row, or cell tools. Data unlocked is data in use, making this perhaps the most exciting update of the month.
Enjoy more power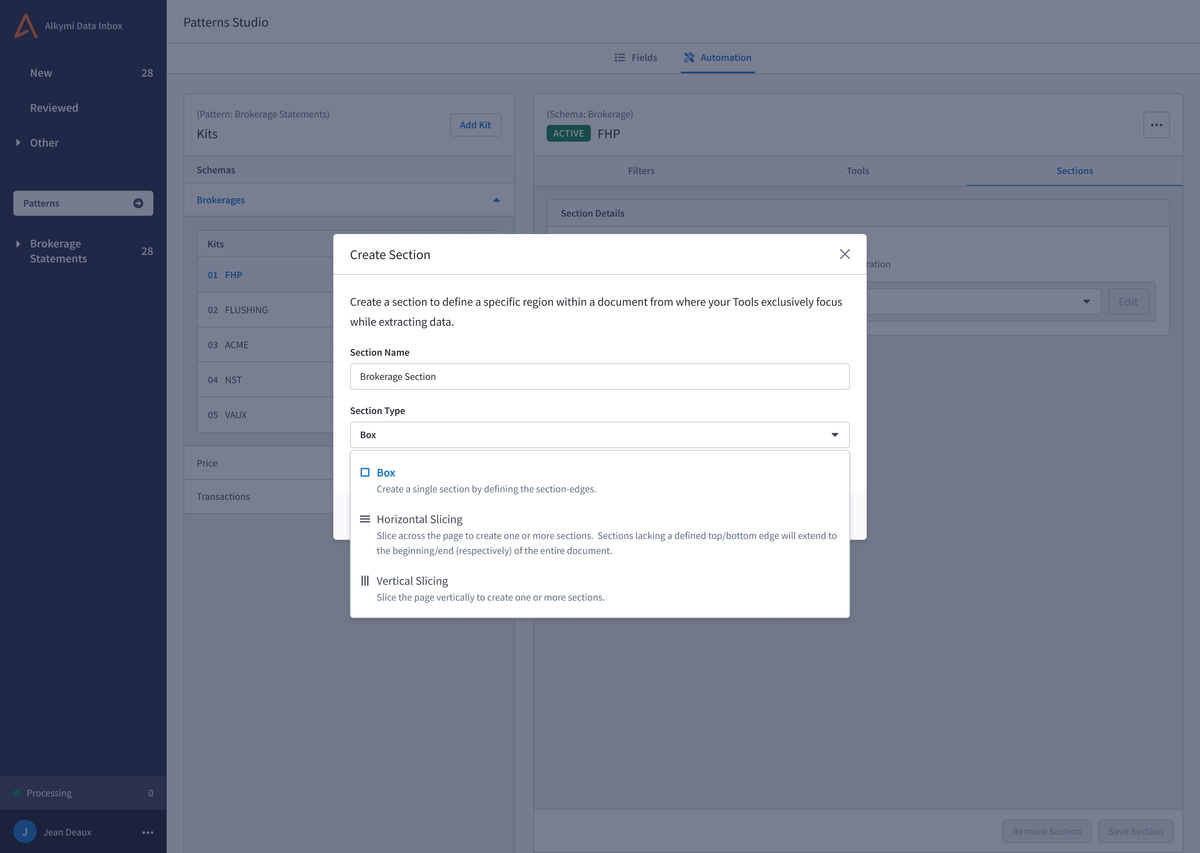 Finally, this month, we're excited to bring you more powerful section creation and targeting options. Sections are like small snapshots from larger documents that allow you to build more targeted data extraction, surfacing the most relevant data for more immediate action.
Where our previous version allowed users to designate a single section in a full document, our new solution lets users draw as many sections as they want. Horizontal slicing creates as many regions as match your boundary criteria throughout the entire document. Vertical slicing creates as many regions as match up to the right edge of the document. You can even identify multiple search regions on a page.
The bottom line is Alkymi users now get increased power and flexibility. Defining sections gives everyone even more ways to flexibly obtain the data they need.
Simplify today
If simplification and empowerment sound good to you, request your free trial today.