At Alkymi, our mission is to supercharge unstructured data workflows by enabling you with automation that more seamlessly transforms data into actions. We've come a long way with end-to-end automation and finding ways to eliminate the use of manual processes for critical business objectives. There is always room to innovate and improve. This month's newly-released features remove even more manual work, bring you added peace of mind, speed up integrations with popular applications, and even make exception handling fun.

Connect your apps with prebuilt Microsoft Power Automate Connectors
Integrations with common applications like OneDrive, SharePoint, Excel, Salesforce, Outlook, and more are important for seamlessly automated workflows. The integration-ready nature of our product moves data into actions, and that includes connecting to the Microsoft ecosystem you rely on daily.
We are excited to announce the launch of Alkymi's first set of prebuilt Power Automate connectors. These enable you to get started even more quickly with thousands of enterprise application integrations. In addition to the connectors available on Power Automate, Alkymi lets you seamlessly integrate with all of the applications available on Zapier, as well as Salesforce, UiPath, Microsoft Exchange (Outlook), and GDrive.

Never start from scratch again
Patterns Studio already accelerates automation deployment for almost all document extraction use cases. Kits are the building blocks of the automation built into Patterns Studio. Kits are used to create broadly-scoped, multi-format workflows. Up until now, each kit had to be created from scratch, even for very similar documents. Not any more.
With the new kit cloning feature, you never have to start from scratch again. You can move at lightning speed by cloning existing kits - including all fields, tools, filters, and sections. This allows you to automate new document workflows in seconds. What's more, a new kit description feature enables better overall organization and allows you to easily locate kits of interest and immediately understand when their use makes sense.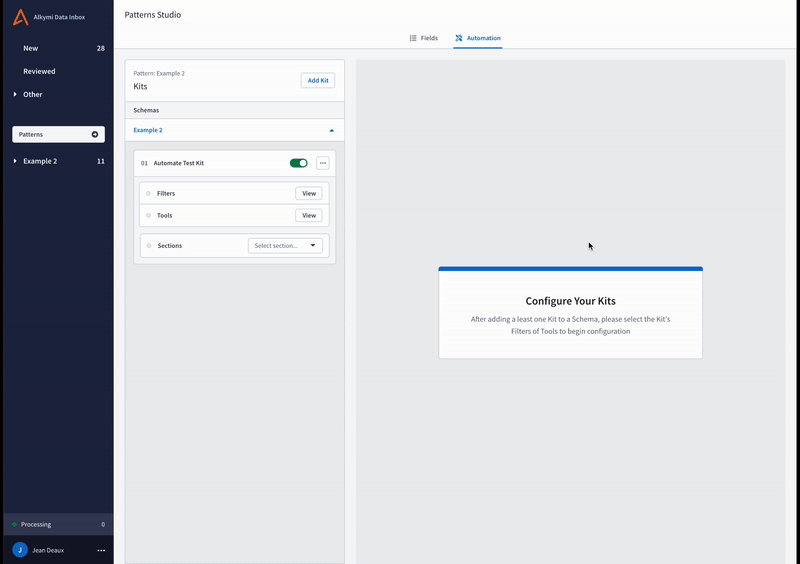 Rest assured with 100% validated, reliable data
You already know that Patterns will clean up, format, and validate extracted data as specified by you. But what happens if data doesn't pass those critical checks? Our new Actionable Data Guarantee places important new guardrails on the export process to guarantee that every piece of data you export from Alkymi can immediately trigger the right downstream actions - 100% of the time.
When specified by you, data will need to pass a strict validation and type check prior to export; this guarantees that information you need in your workflows will be in the actionable format you count on with 100% reliability. Dates are guaranteed to be in a date format. Numeric values are guaranteed to be in a numeric format. Notably, this eliminates the need for any data cleanup while ensuring that every critical piece of information will be instantly actionable.
Validated and well-typed data brings peace of mind as well as saved effort. For example, if key fields that are used to update Salesforce Records, serve as the primary identifier for a database record, or are part of an Excel lookup aren't properly typed and validated, an exception will be flagged so that an operator can make the needed correction. The cumbersome manual work involved in review, rework, and standardization around faulty data is eliminated. Instant insight leads to quick resolution and reliable data that can be put to strategic use faster.

Rapidly triage and resolve errors
One of the bigger challenges in working with automated data extraction comes in identifying and correcting instances in which multiple potential values are associated with a single field. Sometimes a human operator is needed to break a tie between two good options. Surfacing and resolving these multi-hit data extractions could sometimes be time consuming.
Our new multiple hit resolution feature offers a simple—and even fun—user interface for selecting a singular value and associating it with a field. It is now easier than ever to see when multiple values are associated with a single field. Resolving the issue is simple with an intuitive, interactive workflow that eliminates guesswork in selecting a single value. The end result is rapid triage and error resolution in document extraction.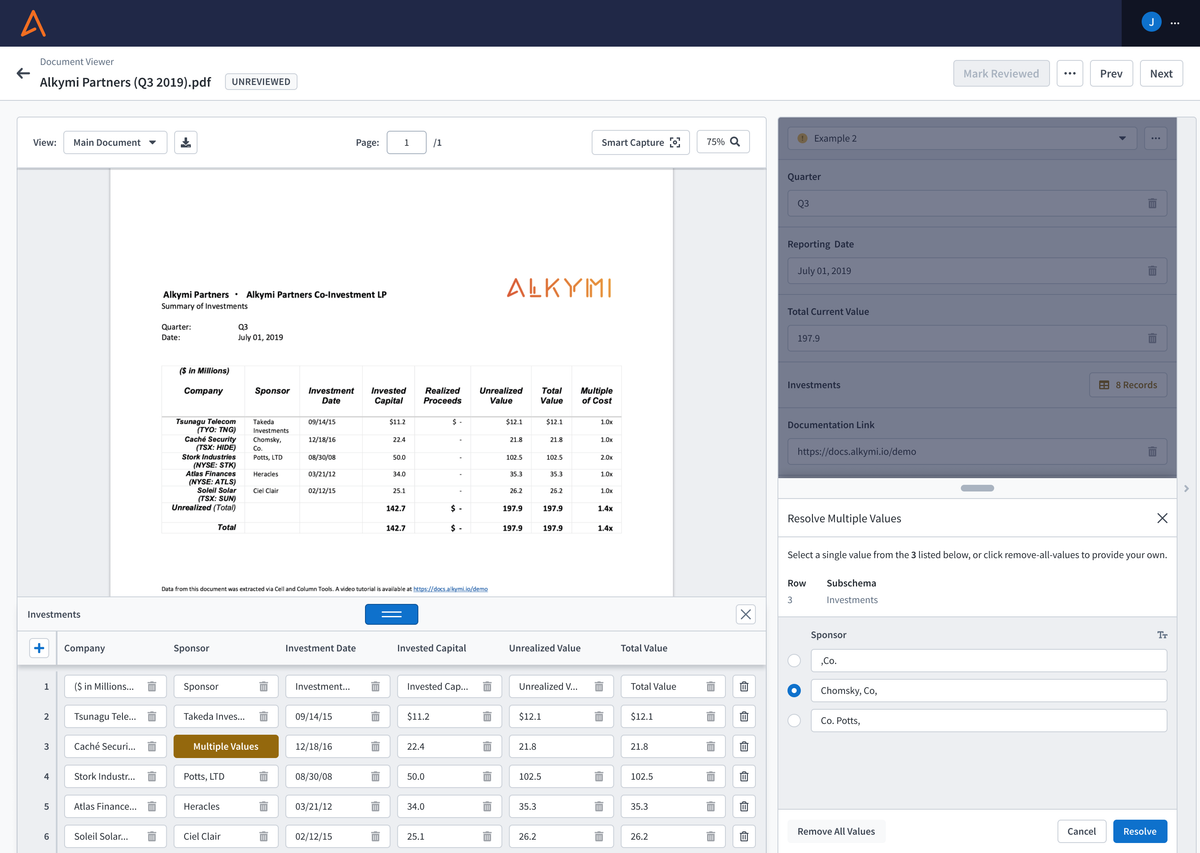 Alkymi users save time, worry less
Eliminating manual overhead immediately impacts your bottom line for the better. Our new features serve to accelerate automation, validate data for immediate use, surface issues for quick resolution, and ease connections to your essential enterprise apps.
If you're ready to realize these benefits, explore Alkymi today with a free trial.