At Alkymi, we're in the business of helping you find that "needle in the haystack." Our goal is to empower you with tools that cut through the volumes of unstructured data sources straight to the data points that are important to you and your business. So, it's no surprise that this month's release is centered around finding those details as quickly and painlessly as possible.
Find your match with the text tool
The text tool is the latest addition to the Patterns Studio arsenal of automation capabilities. Users can configure their Patterns to automatically find and extract a specific piece of information from unstructured data in paragraphs or sentences. The text tool can search entire documents for specified information based on their formats and surrounding text, capture the data, validate it, and structure it for downstream systems.
This is particularly useful for text-heavy unstructured documents such as contracts or other lengthy and diverse documents that not only require the extraction of details but some understanding of a surrounding context. So whether you're looking to extract performance metrics located inside emails or reports, capture customer names, pull account numbers, capture and transform dates, or identify invoice line items—the text tool can do all of this and more.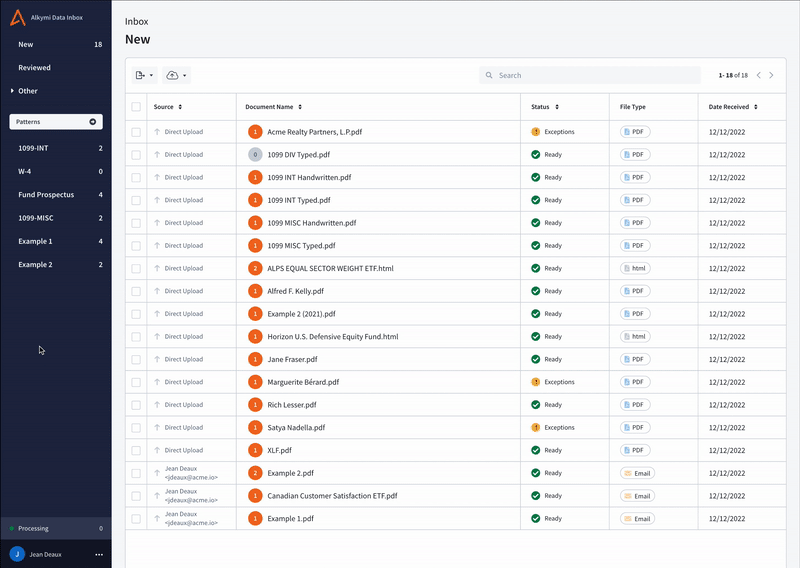 Dig deeper with new UI
Need details from documents, but hate clicking around for it? Then you will love our updated UI that lets you see the extracted information directly from the inbox view. We leverage nested tables to organize document information in Data Inbox to make it easier for you to access and view different slices of document data produced by Patterns. Additionally, simplified data discovery and exception handling give you a more direct path to deeper levels of data.
Let's say you need to quickly navigate to transactions details for some account statements that you processed in Data Inbox, starting with the customers that reported the most transactions. Simply sort by the number of transactions on each document, and then click on your document of choice to view all relevant information. From there, you can search, approve, and update any extracted data in one intuitive-to-navigate view.
Alkymi, not just for the detail-oriented
If you're ready to offload the tedious collection/extraction/normalization/storage work to intelligent document processing and workflow automation solutions, Alkymi has you covered. Take our software for a spin by signing up for our free trial today.