The internet has been buzzing with all things GPT for the last several months after the launch of ChatGPT. These large language models (LLMs) are radically changing how we access and use business data by allowing us to interact with it in natural language, no technical knowledge required. Since launching in 2017, Alkymi has been focused on bringing the most advanced AI and machine learning to business users, which means LLMs like GPT are top of mind for us.

Today we announce another major step in that journey - Alkymi's Data Acceleration Platform is now powered by GPT, making it the first business system for unstructured data with support for GPT-powered automation tools and workflow features.

We're harnessing the power of LLMs to create business actions that help financial services firms not only process their unstructured data, but interact with it, understand it and unlock it to accelerate their business.

A few weeks ago, we announced our new natural language Answer Tool, the first opportunity for our customers to incorporate the power of LLMs into their workflows. Today we are excited to bring our next GPT-powered product to market: our new Summarization Pattern, which does just what the name implies—it can instantly summarize any document in over 95 languages.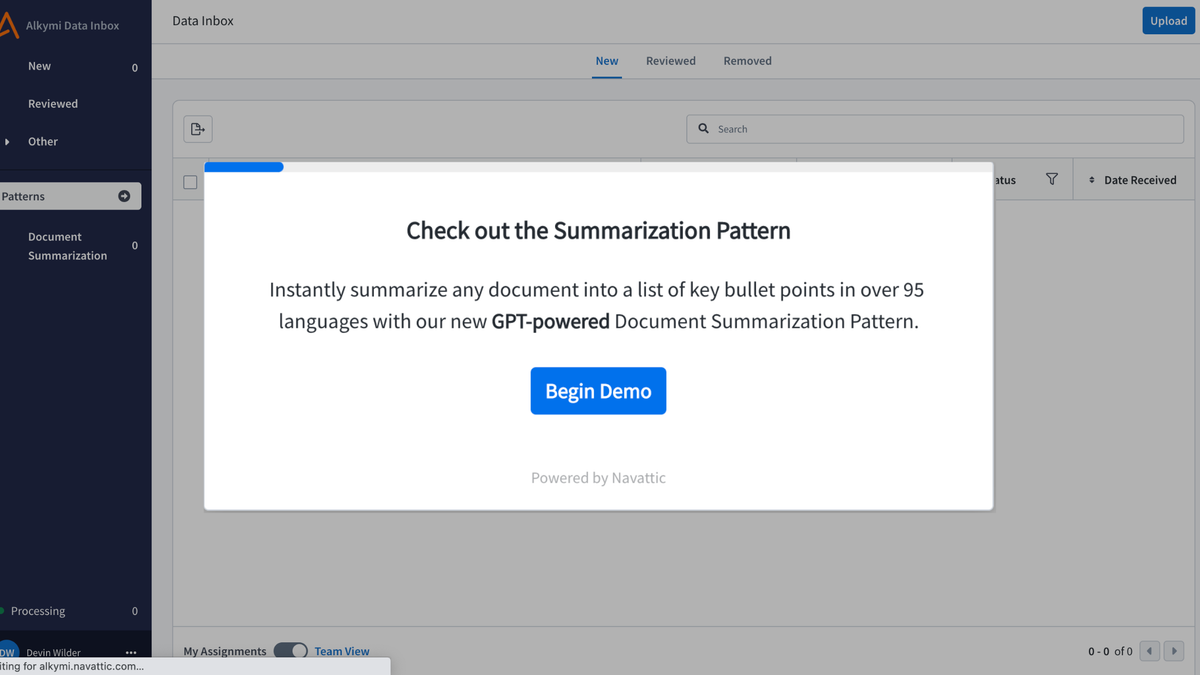 ‍The Answer Tool and Summarization Pattern are the first of many features coming in 2023 that will allow our customers to extract, transform, enrich, reconcile and action data in order to drive business processes and actions. Many of these features will leverage GPT in order to deliver more power, flexibility and opportunities to Alkymi customers.

We know that LLM-powered automation will transform the way data is used to drive business actions in private markets and financial services, whether it's to make smarter investment decisions, reduce risk, monitor performance, or gain an operational edge.
As with all rapid technological innovations, many regulated businesses are balancing fast adoption against the risk and compliance requirements for data quality, security, and control. We designed our products specifically for business-critical data and give our customers peace of mind with a 'human-in-the-loop' design as well as a constant focus on transparency, data validation and reconciliation, all packaged with flexible enterprise deployment options.

As we build the most comprehensive data acceleration platform for financial services firms, we are creating a bridge for our customers to benefit from LLMs and other AI technology in their workflows in a responsible, safe way, including:

Data guardrails - We offer robust security and compliance measures in accordance with our customers policies and processes.
Tailored prompts - Leverage predefined prompts specific to financial services use cases with easy-to-use, configurable options.
Data control - You always have the last word with how your data is handled, whether utilizing our flexible hosting options or the rate at which you adopt LLMs.‍
Flexible deployment options - Meet your enterprise hosting and security requirements with the option for SaaS or private cloud deployments and API services, all SOC2 Type 2 certified.‍
Best-in-class data transformation - Flexible business rules, validation and reconciliation functionality customized for your business that turn raw data into actionable information and insights.
These are just some of the features that give our customers the confidence to trust us with their most mission critical data and provide a robust foundation for us to continue deploying the most cutting-edge AI in the Alkymi platform. It might go without saying, but Answer Tool and Data Summarization are just the beginning.‍
Next up we'll be announcing how we will use GPT to deliver on-demand data enrichment to any datapoint in the Alkymi workflow, allowing our customers to leverage their data to the maximum and deliver more value for each datapoint extracted from a document. Stay tuned!

Alkymi is your business system to manage unstructured data, enabling you to manage and transform information into the fuel that powers all of your business tools and decisions. Have questions on integrating LLMs into your workflows? Let's talk.