During the Spanish Flu pandemic in 1919, Conrad Hilton purchased his first hotel in Cisco, TX insisting on fresh soap and linens for each new guest, a shrewd response to rapidly changing traveler preferences. The same pandemic also transformed the movie industry, driving small-town theaters across the country to the brink of bankruptcy as a pandemic-weary public avoided indoor gatherings.
To ensure survival, Hollywood had to act quickly. The entire system was overhauled to bring all facets of the industry — production, distribution, and exhibition — under control of the newly minted Hollywood studio, an era-defining shift that's currently undergoing yet another dramatic transformation. Sometimes change is a choice, and other times, it's a necessity.
Leaders make lemonade. Or lemon sorbet, or lemon bars.
This spring's tumultuous developments have meant organizations have had to change in ways they never expected—from enabling remote workforces, to completely shifting supply chain operations. There's simply not enough time to plan for the future when circumstances change week to week. In a recent blog on COOs and the pandemic, Deloitte found that most of the COOs they interviewed were "spending the majority of their time on defense," and not on "shifting more resources toward resilient offense going forward."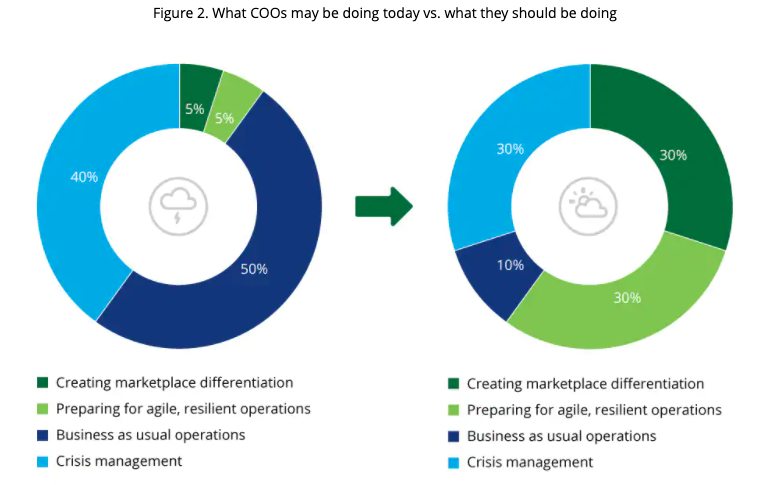 While the job of the COO is to preserve continuity and mitigate risks now, "operational resilience" is what will protect the organization in the future. Operational resilience is about "agility that's embedded in day-to-day operations." Agility is what enables business operations to respond quickly to change and withstand disruption. For example, if customer onboarding is dependent on employees to process and input into on-premise databases, operations will grind to a halt if those employees are required to stay home.
One kind of COO will acknowledge these inefficiencies but leave the decision-making and evaluation of how to improve up to business unit leaders. By the time the research and proposals are in from vendors, weeks will have passed. Another kind of COO will recognize that there's never been a better time to make change. She will see an opportunity to create measurable operational improvement in weeks, not months.
According to Deloitte, COVID-19 has rapidly accelerated a typically long cycle: "One regional US bank we spoke to displayed newfound speed and agility by delivering the MVP for a digital account opening solution in just two weeks, previously meant to take six months." There's never been a better time to transform faster.
Your team can't run any faster. Bend the laws of time and physics.
The key to rapid success, as with any project, is being specific about the problems to solve and working with a partner to help you solve them. We find that the COOs that are most successful at tackling inefficiencies and becoming more agile work with partners, like us, to build a business case and map desired outcomes. For example:
Client onboarding: Reduce the time it takes to process account rollovers.
Investment funds: Improve client reporting and reduce errors by half or more.
Real-time trading: Instantly process client trading restrictions to mitigate compliance risk.
Instead of onboarding customers via laborious copy-and-paste from emails, PDFs, and spreadsheets, Alkymi Data Inbox enables immediate customer onboarding with faster billing as a bonus. Now the subject-matter experts can focus on evaluating the data and performing the analysis. Where are our risks? Can we service this customer better? Where are the next opportunities for growth? Removing repetitive tasks from daily workloads means that business processes move quickly.
And employees are freed up to work on strategic priorities. And the business recognizes cost savings, decreased risk, and faster time to market. As with any new initiative, planned or unplanned, change is hard. If companies think about opportunities instead of fearing the risks, many could come out of the current pandemic as case studies for how they transformed industries—and perhaps even how business gets done in the future.
To learn how Alkymi helps enterprises transform, schedule a demo.