A mind-boggling 80% of data worldwide is unstructured—locked in emails, PDFs, scans, and other files, requiring laborious manual extraction and burdensome cleanup before it can be effectively used. 
For many organizations, this time-consuming work stands in the way of quick data actions, whether that's creating a new customer record in Salesforce, making an onboarding decision, or responding to time-sensitive investor requests.
The good news is that manual effort to handle, upload, and process that invaluable data is no longer required. Automated technologies like Alkymi can turn unstructured data into positive business outcomes in the blink of an eye, enabling instant analysis and action. A good place to start is knowing what types of data you can automate and to what benefit. 
Following are three types of unstructured data you can unlock to move your business forward.

1. Customer data
Customer data demands instant attention, team collaboration, and precision. It sits in common platforms such as Salesforce, Slack, Microsoft Outlook, and Hubspot. Unlocking data from these sources can enable true customer-focused, end-to-end workflows. Information from calendars, CRM, and communications can simply plug into your data destination applications, excel files, and databases. This kind of automation results in customer onboarding that's faster and less prone to error.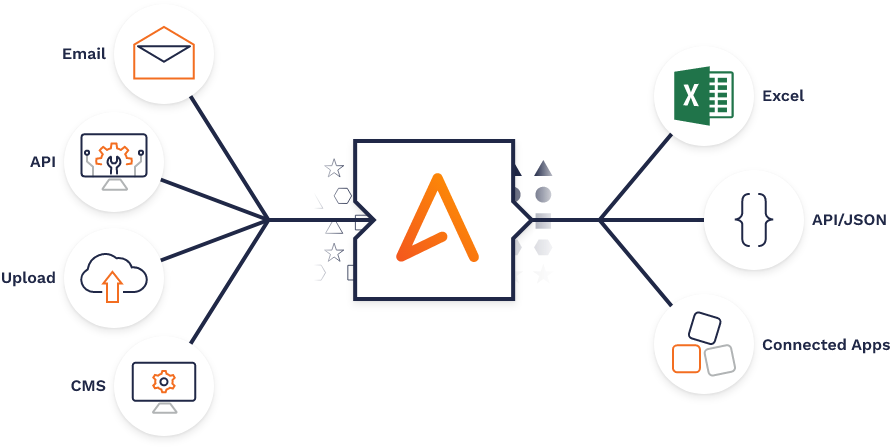 2. Documents and files
Automation can be a true time and headache saver when it comes to collecting, organizing, and sharing your business-critical documents. Alkymi can connect to document and file management platforms like Onedrive, Dropbox, and Box to accelerate document workflows.
Powered by computer vision, machine learning, and deep document understanding, customized Alkymi Patterns seek out the exact data points you need inside forms, text, rows, table cells, and columns. This is an easy way to import significantly more data to improve insight and operations.

3. Productivity suites
Effective project management depends on efficient and transparent collaboration and tracking. That's why Alkymi's Data Inbox is designed to connect directly to Microsoft Outlook and Gmail as well as tools like Jira and DocuSign. With Alkymi, you can instantly create tickets, plug into shared inboxes, and update task statuses with actionable document data. It results in a more complete customer experience.
The power of Alkymi's solutions is largely thanks to their simplicity. With no technical expertise needed, you can connect to thousands of applications and capture data from any unstructured data source including emails, PDFs, Excel documents, CSVs, jpegs, and even handwritten notes automatically for increased efficiency. Moving unstructured data from locked to actionable leads to immediate ROI with integrations to thousands of email systems, business applications, and databases. 
With 98% fewer manual steps in the data review and capture process, plus an audit trail to each data source to eliminate risk, Alkymi empowers teams to confidently take immediate action to reduce costs, better serve customers, and supercharge operations.
To take more data actions with less manual work, schedule a free demo today.