We want you to spend less time building formulas in spreadsheets, spot-checking data, or manually reviewing rows of data to make sure what you've received is correct. With our new Advanced Validation feature, Alkymi can now do the math for you, making it easy for you to validate and approve data based on your specific business logic.

Capturing, enriching, and transforming targeted information from documents is only half the battle. Before it can be truly actionable, your data needs to be validated as well. With features like Data Transformer and Assurance, we give you hundreds of ways to build your own data cleanup actions and provide a 100% guarantee that all data exported by Alkymi will be immediately actionable.

We're taking it a step further with Advanced Validation, which lets you incorporate complex, logic- or math-based validations into your Patterns. You'll be able to quickly and easily confirm if your document passes your Advanced Validation checks and instantly identify when and where the business logic of your extracted data doesn't add up. Our new dedicated Review tab alongside each of your documents will show you exactly where and what data isn't passing validation, and make it even easier to identify which areas of your document need a second look.

Instead of the manual work you used to do in spreadsheets (using SUM to confirm a reported total, anyone?), you can now use Advanced Validations inside of Alkymi to supercharge your data review so that you can put your data to work more quickly.

Custom validation checks can be added for every document processed with your Patterns, including to:

Confirm that line items sum up to a reported total value, to ensure all information on a statement was correctly captured and avoid needing to spot-check hundreds of rows of data
Calculate percentages and compare values to see if they match, to ensure that none of your inputs are flawed
Ensure a value is in the right range, or greater than or less than a certain amount, to detect anomalous values instantly
Make sure a date, i.e. on an invoice, is not prior to a billing date, or confirm that a date range on a document is correct, to prevent bad payments from being issued‍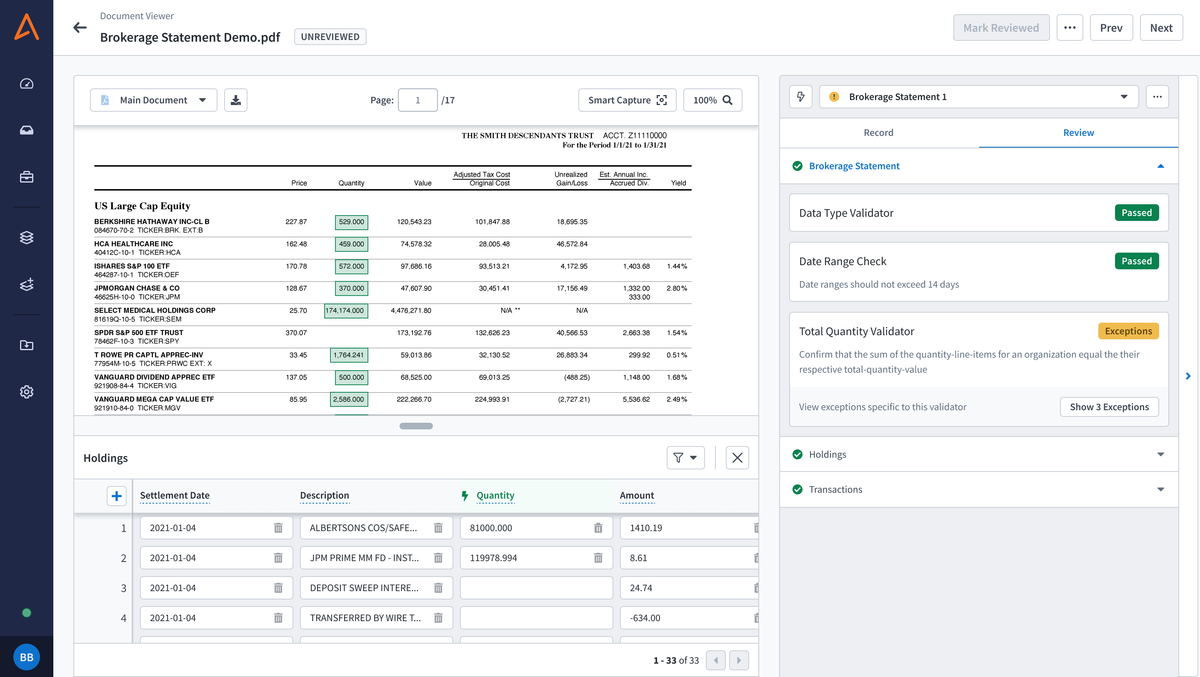 A table that doesn't add up correctly can cause process problems down the line or result in incorrect data being used and communicated, ultimately costing you more time to fix. Alkymi can now flag errors like that for you, helping you get cleaner data, faster, so you can process your data and send it straight through to your systems. All of these Advanced Validations and more can be enabled on your Patterns, allowing you to leverage the impact of your document data immediately.
‍Schedule a demo to see it in action for your use case.