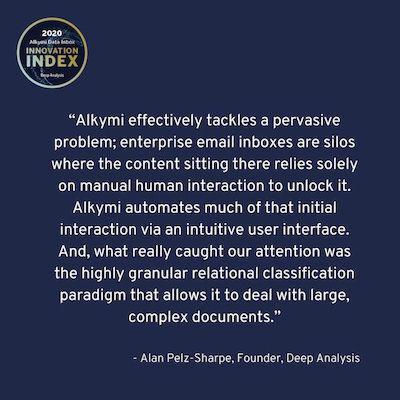 Deep Analysis, an analyst firm covering intelligent enterprise, process automation management, and blockchain released its inaugural Innovation Index 2020. We're proud that Alkymi is one of 16 companies to be featured alongside industry leaders like Microsoft, Salesforce, and Adobe.
The Index is an "eclectic" collection of companies, which are not surprisingly enabling advancements in AI, data management, and enterprise blockchain during a year in which a pandemic-propelled rethink of technology business solutions has centered on improving automation wherever possible. In 2020, Deep Analysis took over 200 briefings and met with both emerging and established companies.
In the words of founder Alan Pelz-Sharpe:
Occasionally, something jumps out at us; we have a 'shut the front door' moment. Out of the blue, we see or hear something that stops us in our tracks. It can be a seemingly small feature improvement or a radical and far-sighted significant new service.
Alkymi Data Inbox is highlighted in the report for its ability to free unstructured data buried in emails and complex document types in real-time. Expressly noted is how Alkymi makes it easy for financial-services business users to leverage ML to power automated workflows such as client onboarding.
Emails and documents flow into Alkymi Data Inbox into a single processing queue from CMS, email systems, and file storage systems like Box, via the Alkymi REST API.
Alkymi Data Inbox applies machine learning and computer vision to the unstructured data to understand and extract data from emails and complex document types such as charts and tables.
Because data accuracy is important, Alkymi leverages a human-in-the-loop approach (HITL) to review and validate the data from an intuitive UI and improve ML models with human feedback.
The now-structured data's original source is preserved and auditable. And the data can appear in multiple categories and classifications, allowing for different views of the same information for different users.
You can get a copy of the report here. And, to see Alkymi Data Inbox in action, schedule a demo.‍